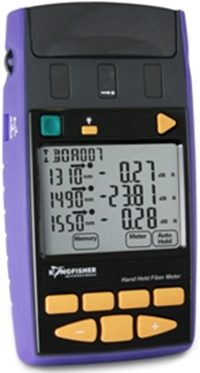 KI2600-INGAAS*
Regular price $1,155.82 Sale
The premium KI 2600 Hand Held Fiber Meter tests absolute / relative power in fiber optic systems. It displays mW, μW, nW, dB, dBm to 0.01 dB resolution, with superior high power performance, and industry leading accuracy.
Interchangeable connectors are dust & drop protected.
Autotest provides multi λ (wavelength) loss testing. Up to 3 λ are displayed on a large clear display.
Results can be stored in memory, with a cable name & time, then copied to a USB memory key. Alternatively, live readings can be put directly into a customised report using KITS™ software. KITS™ also provides a one-button file dump to a PC.
The Multi-Fiber ID tone feature can identify up to 12 fibers, in addition to usual test tones.
Power options include a choice of batteries, user selectable charging & micro-USB power.