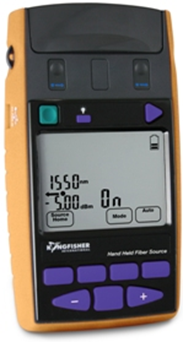 KI2422*
Regular price $1,873.37 Sale
This Hand Held Fiber Source is used with an Optical Power Meter to test loss on singlemode fiber. It offers ultimate test accuracy due to it's high stability.
It meets MIL PRF 28800F Class 2 with moisture resistance, rubber corners & 1 m drop capability. Interchangeable APC connectors are dust & drop protected. Powered by 2 x AA alkaline batteries and external power, or two re-chargeable batteries with on-board charging. The large and clear display is backlit & sunlight readable. When used with an Autotest compatible Power Meter or LTS, multi-wavelength loss testing is achieved.
A test tone can be used with a Power Meter or fiber identifier for fiber detection, continuity testing, fault finding & route location. The Multi-Fiber ID feature positively identifies up to 12 fibers at a time.