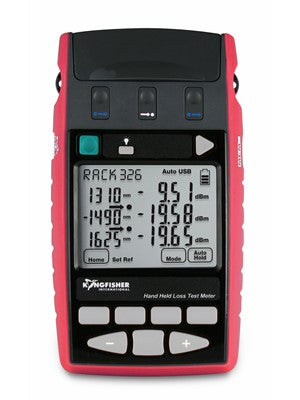 KI27603-Ge*
Regular price $2,920.61 Sale
The premium KI 2600 Hand Held Loss Test Meter tests power and loss in fiber optic systems. It displays mW, μW, nW, dB, dBm to 0.01 dB resolution, with superior high power performance, and industry leading accuracy.
Interchangeable connectors are dust & drop protected.
Autotest provides multi λ (wavelength) loss testing. Up to 3 λ are displayed on a large clear display.
Results can be stored in memory, with a cable name & time, then copied to a USB memory key. Alternatively, live readings can be put directly into a customised report using KITS™ software. KITS™ also provides a one-button file dump to a PC.
The Multi-Fiber ID tone feature can identify up to 12 fibers, in addition to usual test tones.
Power options include a choice of batteries, user selectable charging & micro-USB power.
The light sources provide excellent stability for reliable field loss testing. The unique and useful VisiTest feature mixes a VFL with the test signal.